Scottish house sales rise but prices dip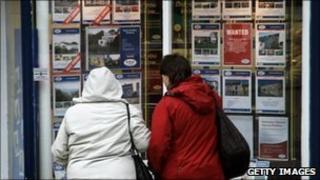 There is more evidence of pick up in the Scottish housing market, according to the surveyors body RICS.
It said the number of homes sold in Scotland during February rose and the number of people enquiring about property for sale also rose sharply.
However, prices dipped as sellers dropped their prices to attract buyers.
Scotland along with only two other areas of the UK - London and the north east of England - saw a rise in demand for property.
RICS Scotland director Graeme Hartley said: "Scotland's property market is once again showing different results to the rest of the UK.
"Scots seem to have more confidence in the market, despite the need for large deposits and a possible interest rate rise."
Home refresh
Many of the surveyors responding to the survey said they had seen an increase in people wanting up-to-date home reports.
Andrew MacFarlane of Graham + Sibbald in Hamilton said: "We have experienced an increase in home report instructions but also of refreshed home reports; an indication that properties on the market for some time are beginning to attract buyers."
He added: "Home reports are also proving to be a catalyst for home repairs and upgrading, and an improvement in housing stock available. Of the home reports we have prepared and defects identified, 60% of those reports prompted repair work."
Other surveyors said they also had experience that homes were being presented for sale in a better state of repair.