Weir Group on track to double profits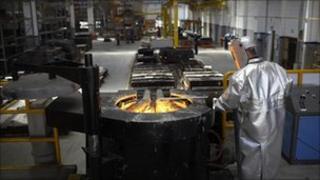 Weir Group has announced a 58% increase in pre-tax profits to £295m.
The Glasgow firm which works mainly in the mining, power and oil and gas industries predicted it was on track to double its profits within five years.
Weir said a strong demand for commodities helped its mineral division achieve a record-breaking performance.
During the year, Weir made five acquisitions which it said broadened its product portfolio and increased its exposure to emerging markets.
The company's total order book grew to £1.9bn in 2010 - an increase of 39%.
Keith Cochrane, chief executive, said: "Weir enters 2011 in excellent financial health, with a record order book, a clear strategy and plans to drive future growth. We are confident the group will deliver good progress this year."
Weir said two of its three main markets saw a strong recovery in 2010 which was "ahead of previous expectations".
Orders for its oil and gas division rose by 97%.
Its power and industrial division did not perform so well. Weir said although demand in the conventional power market remained strong in Asia, it was weak in Europe and the US and the nuclear market remained "active".
Shares in Weir have risen by 37% in the past six months.