John Menzies increases profits by 28%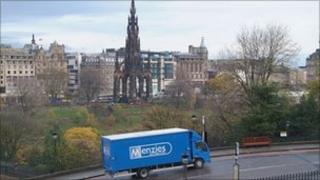 Pre-tax profits at Edinburgh-based John Menzies rose by 28% to £45m last year, it has announced.
The group distributes newspapers and magazines in the UK and provides passenger and cargo handling facilities to the aviation industry.
At Menzies Aviation, turnover increased to £626m, with underlying operating profits rising by 56% to £24.6m.
Menzies Distribution delivered operating profits of £28.8m, up 3.2%, with a 4% rise in turnover.
The aviation result was driven by an increase in overseas cargo volumes and expansion within the ground handling business.
The company lost £2.2m in profits during the volcanic activity in April, although this was partly offset by strong de-icing revenues in January and December.
Net debt was reduced to below £100m, mainly as a result of the strong cash performance of both divisions, and the company announced a final dividend of 14p.
Group chairman Iain Napier said: "2010 was a highly successful year for the group, in which we achieved significant profit growth and delivered on our strategy.
"The group is highly cash generative and, for the second year running, our aviation division delivered greater net cash flow than our distribution division."
He added that this year had got off to a positive start.
The company, founded in 1833, pulled out of the High Street in 1998.