US oil clean-up boosts Scottish firm Aggreko's profits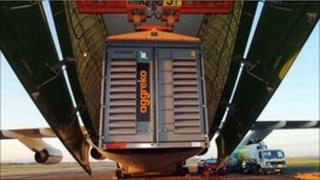 A hot American summer and the Gulf of Mexico oil clean-up helped a Scottish firm boost its earnings last year.
Aggreko, based in Glasgow with a plant in Dumbarton, supplies temporary power units around the world.
Its North American division surged last summer with demand for air conditioning and coastal cleaning around the Deepwater Horizon spill.
Pre-tax profits for 2010 were up 25% to £307m and revenue was 20% higher at £1.23bn.
Aggreko was also helped by contracts for the Vancouver Winter Olympics and the World Cup in South Africa.
The results prompted the company which is to provide temporary power for the London 2012 Olympics, to raise its dividend by 50% to 18.9 pence.
But Aggreko, which has more than 5,000 staff in 144 locations worldwide, was cautious in its 2011 outlook.
It said trading profit in 2011 would be flat, due partly to the lack of similar major sporting events that added £87m to 2010 revenue.
And it said current instability in some countries in the Middle East and Africa made the task of predicting the outcome for the year more difficult than normal.
Jobs increase
The company said it had no equipment in North Africa but does in the Ivory Coast and Yemen, both countries facing unrest.
It said it was also watching carefully economic developments in Saudi and the Persian Gulf.
The company continued to invest heavily in the business in 2010, with fleet capital expenditure increasing by £105m to £254m.
The redevelopment of its Dumbarton plant is under way and will be opened at the end of this year.
Employment at the plant has increased from 140 to 310 in the past year.
Company chief executive, Rupert Soames, said: "A hat-trick of major events has allowed us to deliver strong earnings growth while our international power projects business completely re-structured its order book and delivered the key strategic objective of improving the regional balance of business between Africa, the Americas and Asia."
He added: "We go into 2011 with strong momentum, a record order book in international power projects, and continued strong demand driven by the world-wide shortage of power."