Scottish Enterprise faces 10% budget cut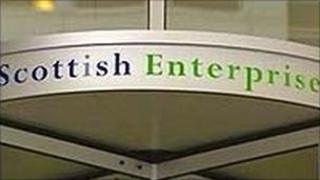 Scottish Enterprise has said it expects companies to contribute a larger share to its development projects, as it adapts to a sharp cut in budget.
The government's main economic agency is facing a 10% cut in its core budget from next month, from £201m to £194m.
In its business plan for next year, it is cutting a third from its £24m annual budget for commercialising new ideas.
The urban regeneration budget is being halved from £25m, and support for industry projects is down.
Meanwhile, Scottish Enterprise wants to boost income from selling property.
Chief executive Lena Wilson said the agency hoped the budget cuts would not "diminish" its scope.
Private sector money
The Glasgow-based agency has an economic role across most of Scotland, but not the Highlands and Islands.
Over the next three years of reduced budgets it wants to focus its effort on five priorities such as including renewable energy and supporting companies with products and services for lowering carbon emissions.
The priorities also include support for companies seeking to innovate, grow and export.
These are built around targets to draw in private sector money in support of research and development, improving infrastructure, and through equity stakes taken by the new Scottish Investment Bank.
Scottish Enterprise's total budget next year includes a boost of £43m, as it takes on board the Scottish government's budget for supporting inward investment by foreign firms.
Ms Wilson told the BBC: "What we'll seek to do is not diminish anything we cover, but do it differently, innovatively, creatively, and maybe not go in with as big a contribution as before.
"I think this is an opportunity. Yes, I want maximum budget for SE, but I'll do the best I can with what I can."
She added: "There are ways to help companies by getting them to collaborate more together, there are ways to work with industry to develop sectors.
"Economic development, as we get more sophisticated, doesn't have to be about how much money you throw at it.
"We'll be pushing the leverage much more".