Visitors to Scotland's hotels rise after poor December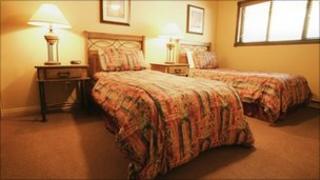 Scotland's hotels saw improved visitor numbers at the start of the year after recovering from a fall before Christmas, according to new figures.
Business advice firm PKF found year-on-year occupancy levels rose 1.1% during January, in contrast to England where numbers remained static.
Aberdeen and Edinburgh both saw occupancy levels rising by 6.1% and 1.2%, but Glasgow fell by 1.8%.
Rooms yield, the industry measure of revenue, was up 4.2% in Scotland.
The budget sector continued to be hardest hit with both occupancy and rooms yield falling for hotels priced below £50.
Alastair Rae, a partner in the real estate and hospitality sector at PKF, said the figures indicated some recovery from the "very poor numbers" caused by the bad weather in December.
Meanwhile, a Glasgow hotel has been awarded five stars from Scotland's national tourism organisation, joining four others in and around the city.
Blythswood Square joins Hotel Du Vin at One Devonshire Gardens, Radisson Blu, Mar Hall and the Glasgow Hilton.