Lloyds appoints new Scottish boss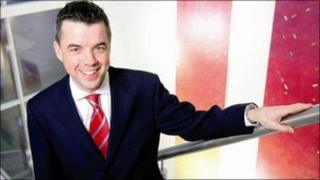 Lloyds banking group has announced that Philip Grant will be chair of the group's Scottish executive committee, succeeding Archie Kane in the role.
Mr Grant will also continue in his role as head of the group's private banking arm and will report to Lloyds chief executive, Antonio Horta-Osorio.
Mr Horta-Osorio began a management shake-up at the bank last week after taking over on 1 March.
Archie Kane said he was to retire as executive director of Scotland.
He was also in charge of the group's insurance division.
His departure has left the group's Scottish operations without a voice on the main board which has led to concerns.
Philip Grant started his career with Bank of Scotland and has held a number of senior roles within the bank.
Mr Horta-Osorio, group chief executive, said: "I am delighted that Philip has agreed to chair the Scottish executive committee.
"We are one of the country's largest employers and we recognise that we have a significant responsibility both to our colleagues and to the communities and businesses in Scotland that we support."