Scottish Loans Fund gets £40m from high street banks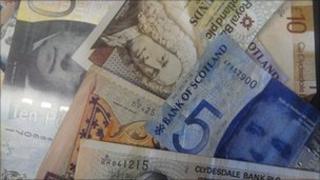 Four high street banks have pledged to commit a total of £40m to the newly-created Scottish Loan Fund.
First Minister Alex Salmond announced the investment, saying it provides opportunity for growth and better access to finance.
The fund has already been awarded £55m from the Scottish government.
The announcement followed the release of a government report which showed lending to small and medium businesses had further declined since 2009.
A survey of 1,000 businesses carried out for the Scottish government last November found there were high bank rejection rates and a decline in finance demand.
Every firm surveyed believed costs for new loans were rising.
Of those firms applying for loans, the rejection rates had risen since the Scottish government's 2009 survey - from 19% to 24%.
Companies seeking renewed credit arrangements found it easier than those seeking new loans.
More than half of respondents said new loan applications were rejected last year.
The sectors finding it most difficult to raise finance included hotels and restaurants, transport and retail, and firms borrowing to boost their exports.
The Scottish Loan Fund is a product of the Scottish Investment Bank, which is a division of Government agency Scottish Enterprise.
Lloyds Banking Group, Royal Bank of Scotland and Santander each committed almost £10m, with half that amount from Clydesdale Bank.
Mr Salmond said: "Growing and exporting firms make a significant contribution to Scotland's economy and this fund targets their need to access to a broader range of finance than is currently available.
"This investment takes us closer to achieving our aspiration of a £150m loan fund."
Archie Kane, head of Lloyds Banking Group in Scotland, said: "Lloyds Banking Group is committed to supporting the Scottish economy and we are delighted to play our part in the Scottish Loan Fund. This is in addition to the £500m of lending provided to Scottish small and medium sized businesses last year."
The "absolute cost of borrowing" is about half if that in 2007, he added.