Melrose Resources looks elsewhere for oil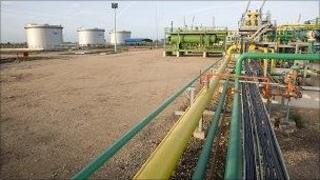 The oil and gas firm Melrose Resources has said the threat of disruption to its drilling in Egypt has underlined the need to expand in other areas.
The North African country, which has seen civil unrest in recent weeks, is one of the main areas of focus for the Edinburgh company.
Much of its exploration is onshore in the Nile delta.
But it is looking also to gas fields coming on-stream in Bulgarian territory under the Black Sea.
It said this should help it double its cash generation over the next five years.
The Edinburgh-based oil and gas exploration firm's drilling programme is now across Egypt, Bulgaria, Romania, Turkey and France.
Full-year results showed pre-tax profits down from $31m (£19m) to $30m (£18m), but it halved its post-tax loss to $12m (7.3m).
Revenue was up from $224m (£137m) to $240m (£147m).
Executive chairman Robert Adair said Egypt has traditionally been perceived as a country with relatively low political risk.
He added: "Fortunately, the situation there now appears to be calm and whilst we suffered no business disruption there, we will continue to monitor the situation closely.
"The recent events have, however, underlined the importance of asset diversification and we are particularly pleased that we brought our new Bulgarian fields on stream last year as part of that process."