Diageo to invest £3.5m in Islay distillery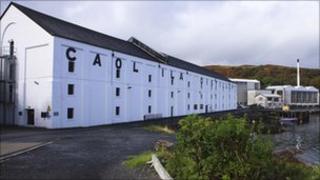 Drinks producer Diageo is to invest millions of pounds boosting whisky production at Islay's largest distillery.
The firm is to spend £3.5m expanding and upgrading its Caol Ila distillery on the Sound of Islay.
The move will increase production capacity at Caol Ila from 5.7 million litres a year to 6.4 million litres.
Refurbishment work is due to start in June and is expected to last six months.
Key equipment will be upgraded and a new control system installed in the stillhouse.
Caol Ila's six large copper stills are not part of the refurbishment project.
The Caol Ila project follows a £3m three-year investment programme by Diageo at its Port Ellen Maltings on Islay.
The company said the money would be a "major boost" to local firms.
Kevin Sutherland, Diageo's senior site manager on Islay, said: "An investment of this scale is fantastic for the local economy and it signals Diageo's deep-rooted commitment to the Islay whisky industry."
Diageo has spent £600m over the past six years on its Scotch whisky operations, including the opening of the £40m Roseisle distillery on Speyside last year.
But last year the company announced 700 job losses at its Port Dundas distillery in Glasgow and a packaging plant in Kilmarnock.
It said it would shut the sites by 2011, marking the end of nearly 200 years of distilling in Port Dundas.