Aberdeen Asset Management 'won't reduce fees'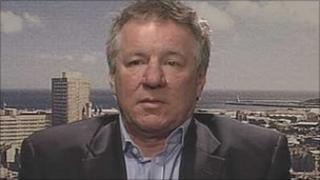 The chief executive of Aberdeen Asset Management has warned he is not willing to lower fees to boost the inflow of funds.
Martin Gilbert said the flow of assets into Aberdeen funds invested in stock markets in emerging economies had seen a "welcome" slowdown.
He put it down to the firm's refusal to compromise on its fee rates.
The chief executive was commenting as he delivered a trading update that showed a mixed picture in asset flows.
There was outflow of business towards the end of last year, but inflows have since picked up.
It also showed that market movements, performance and foreign exchange changes led to a £7.3bn loss in asset value during January and February.
Assets under management stood at £183bn at the end of December, but fell to £176bn two months later.
There was a net inflow of assets into the business of £200m for the first two months of this year, and a net outflow in assets of £600m over the five-month period to the end of February.
Over those five months, the gross inflow of business to the Aberdeen-headquartered investment house reached £19.1bn.
'Welcome moderation'
Mr Gilbert said the level of fixed-income business that had left Aberdeen Asset Management had "slowed significantly" and the company continued to be successful in attracting new investment to global equity and emerging market equity funds.
He continued: "We have seen a welcome moderation in the rate of inflows to our global emerging market equities products, which supports our team who remain resolute in their unwillingness to dilute the quality of their portfolios.
"Whilst this is in part due to recent nervousness in emerging markets generally, it is also a reflection of our not accepting new business unless it is offered at an acceptable fee rate."
He said there was "a healthy pipeline of new business", and despite difficult market conditions since the start of the year, the outlook for Aberdeen Asset Management looked "favourable".