Scottish finance industry reaches 'watershed'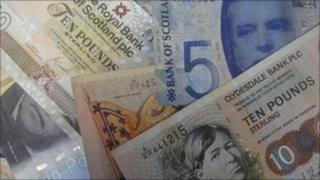 Scotland's financial sector risks losing out to other countries if it fails to raise its ambitions, boost skills and upgrade transport and data links, according to a new study.
The PricewaterhouseCoopers analysis said Scotland's financial sector must put recent setbacks behind it.
The survey said banking, insurance and asset management firms had reached a "watershed".
It said Edinburgh and Glasgow were slipping down global league tables.
The PwC report said they needed to act quickly but if they made the right moves there was a potential to double the number of jobs in the sector - currently at almost 100,000, as new banks moved into Edinburgh and Glasgow to recruit from those being shed by the traditional lenders.
Tax powers
More collaboration - within the industry and with universities and colleges - is required to improve the industry's international standing and attract inward investors, it said.
There is also a warning about uncertainty over tax rates as a concern for business, as Holyrood prepares to take on extended tax powers.
Stephanie Bruce, a financial services specialist at PwC, said: "Without urgent action Scotland could continue to fall down the international rankings and, crucially, the rate of decline could accelerate.
"With political debate focusing on the challenges posed by the public sector cuts, particularly in the run-up to the Scottish elections, we need to work effectively as an industry to ensure that support for financial services remains firmly on the agenda."
Among the recommendations from the report, Navigating the Next Decade, its authors said there was a need to ensure the infrastructure was attractive to finance companies.
That includes reliable electricity supplies, quality office space and effective transport and air links even in wintry weather.
It also said there needed to be a focus on new technology, including increased bandwidth and access to quality data storage.
The report argued for workforce skills to be improved, working with business schools.
It also included comments from some of the most senior figures in the Scottish financial sector, whose opinions were canvassed for the report.
Lady Susan Rice, managing director of Lloyds Banking Group in Scotland, said: "Things need to change in banking to rebuild and enhance what we have, but what we have is not broken beyond repair.
"Insurance companies and fund managers here were not tarnished as the banks were, and they have very good reputations. And the banks are working hard to rebuild trust."
Ron Teerlink, chief administration officer of Royal Bank of Scotland, called for improved infrastructure, including power supply, data centres, roads and airports.
He said: "In times of adverse weather, such as snow, it cannot be acceptable for airports not to be operational or for main routes to be closed".
Keith Skeoch, head of Standard Life Investments, said: "To attract inward investment, Scotland needs to focus on its USPs (unique selling propositions). Scotland currently does not have overwhelming advantages over its competitors."
Otto Thoresen, chief executive of Aegon UK and soon to leave for the Association of British Insurers, said: "Some of the industry's arrogance has been beaten out of it, so industry is now open to working with government to achieve the right outcomes.
"Both side need to embrace."