Aggreko wins Japan temporary power supply contract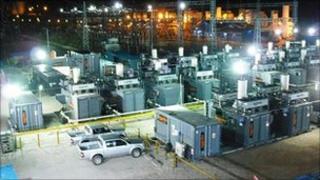 Glasgow-based temporary power firm Aggreko has won a contract to supply power to areas of Japan worst hit by the earthquake and tsunami.
The deal with Japanese power firm Tepco is not finalised, but Aggreko has already started to send equipment.
The company is shipping out diesel and gas-fired generators that will deliver 200MW of power to the Tokyo bay area for at least a year from June.
The stricken Fukushima Daiichi nuclear reactors produced 460-1,100MW each.
"Within a few days of the disaster, Aggreko entered into discussions with Tepko to bring additional power to the grid," said Rupert Soames, chief executive of Aggreko.
"Aggreko is pleased it is able to be of assistance to the country at this very difficult time."
The company's shares closed 5.3% higher in London on Monday, following the announcement.
Aggreko employs more than 4,000 people operating from 148 locations.