Murray International Holdings incurs restructure costs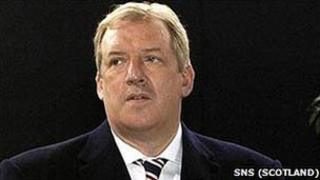 Murray International Holdings has incurred £54m in restructuring costs as it aims to slim down by selling off assets.
The package of radical reforms has seen its banker, Lloyds Banking Group, inject £150m in equity into the group.
The shareholding held by chairman Sir David Murray and his family has reduced from 88% to 70%.
But he said funding arrangements for Rangers Football Club were unaffected by the reorganisation.
Murray International Holdings (MIH) also has businesses in the metals, property, call centre and engineering sectors.
The company's debt fell from £942m at the end of June 2009, to £713m by the end of June last year.
According to accounts filed this month at Companies House, the highest paid director, assumed to be Sir David, was paid £1.04m for the financial year to June 2010.
MIH turned a profit before interest and tax of £21.6m, compared with a loss of £20.5m in the previous year.
In his statement with the accounts, Sir David emphasised that the "significant turnaround" reflected the strength of MIH's underlying business and the benefits of efficiency savings as the company has been rationalised.
He also stressed that the funding arrangements for Rangers were unaffected by reorganisation in the rest of MIH.
He said: "The club's debt facilities with Lloyds Banking Group have remained completely independent from and without recourse to the (MIH) group."
A deal is understood to be close on selling the Murray stake in Rangers to financier Craig Whyte.
Sir David also wrote: "Despite speculation and comment to the contrary, stakeholders and supporters should be assured that the (MIH) Group and I, as respective principal shareholders, are committed to finding a long-term investor capable of developing the club further going forward".
The accounts state that MIH controls 61% of Rangers, while Sir David has his own shareholding, taking his control up to around 8% of the football club.
The restructuring of the group follows the sudden change of fortunes in both the property and metals market, after the worldwide financial crisis.
In agreement with Lloyds Banking Group, MIH split its divisions so that each has a distinct banking facility.
Divisions had previously provided cross-guaranteed loans, though it is stated that Rangers FC always operated separate bank facilities, and never cross-guaranteed indebtedness in other divisions.
Murray Capital, the private investment division, was split from the wider group and is now wholly controlled by the Murray family.
In the restructuring, MIH incurred losses of £28m in buying out its partners from joint ventures, and it had to write off a further £28m as it exited a series of long-term interest rate hedges.
The restructuring process cost £3.7m in professional fees during the year to June 2010, and £1.7m in internal re-organisation costs.
The accounts make clear that MIH has to sell assets. During the financial year, it sold £91m in property, most of which was an office property in Bothwell Street, Glasgow, and another in London's Haymarket.
Market conditions
It had to allow for £154m in reduced valuation on its property portfolio in the 17 months to June 2009, leaving a value of £534m.
In the most recent accounts, covering the next 12 months, it took a further reduction in its valuation to £488m, a decrease of 13%.
At the same time, rents on these properties have been forced down under worsened market conditions.
MIH's property subsidiary, PPG, has required "further revision, and is now focused on a medium-term asset realisation and debt reduction".
Murray Estates, which holds properties with residential development potential, is also selling its assets, over the medium to longer term.
That portfolio includes 600 acres to the west of Edinburgh, which is currently the subject of a consultation for a new "garden" suburban district, along with 130 acres in Fife and 80 acres in Lanarkshire.
The MIH metals division faced a 35% drop in tonnage since the start of recession, with turnover of £132m for the 12 months to June 2010.
It has had to reduce its cost base by about 35% as well, including closure of two distribution centres.
The sale of Rangers has uncertainty over it because of a claim by HM Revenue and Customs relating to an employee benefit trust, which could run to tens of millions of pounds.
However, the accounts state that professional advice is that "it is reasonable not to provide for amounts in respect of this matter".
The trust, called the Murray Group Management Limited Remuneration Trust, continued during the 2009-10 year to have £1.5m paid into it from MIH, half of the payments in the previous 17 months.
While praising MIH's 3,500 employees, Sir David said: "I remain confident that recovery will materialise, albeit slower than commentators have previously predicted.
"I firmly believe that the financial restructuring and measures introduced over the last two years will enable us to survive until then and thrive upon subsequent improvements in market conditions".