STUC releases paper on future of Scottish manufacturing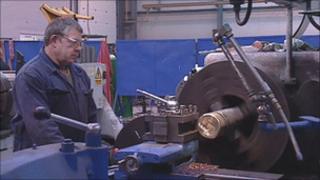 The STUC has published a discussion paper on the future of manufacturing in Scotland.
The move comes ahead of the STUC annual congress, which opens in Ayr on Monday.
The STUC said the report would be a "key component" of the policy agenda being debated at the congress.
It added the paper would help support a "mature, evidence-based discussion" over policies required at UK and Scottish-level to nurture output and jobs growth in manufacturing.
STUC general secretary Grahame Smith said his organisation had argued long before the financial crisis that the economy had become much too reliant on financial services.
It had also highlighted that the decline in manufacturing jobs over the past three decades had "not just made the economy less fair and equal but also much more unstable".
Industrial strategy
He said: "Politicians across the spectrum are now quite correctly focusing on how the economy might be rebalanced back towards manufacturing. It is essential that the opportunity provided by this emerging consensus is grasped."
Mr Smith also said the STUC would urge the new Scottish government to work with partners to develop a modern industrial strategy for Scotland.
He added: "These include the provision of the patient and committed finance of which Scottish manufacturing firms have been starved.
"It is absolutely vital that finance is reformed in order that it supports, rather than undermines, the productive economy."