Young entrepreneur wins Asda supermarket oil deal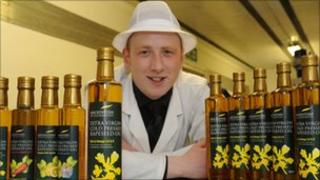 A young entrepreneur from Aberdeenshire has secured a deal to supply rapeseed oil to every Asda supermarket in Scotland.
Gregor Mackintosh, 23, who set up Mackintosh of Glendaveny in 2009, saw his extra virgin oil hit the shelves of all 50 stores last week.
The five-figure deal follows a £50,000 upgrade of production facilities on Gregor's family farm in Glendaveny.
The investment included new storage tanks and a 24-hour extraction system.
In the past week, more than 8,000 bottles of oil have been shipped to Asda's central distribution centre in Grangemouth.
Mr Mackintosh said: "Every penny that the business has made over the past two years has been reinvested back into the company.
"I believe the recent investment, which includes taking on a new member of staff, will help us meet demand from a wide variety of outlets - from hotels to independent stores and restaurants - ­as well as open doors to other well-known supermarkets.
"It will also free up my time so that I can focus on growing the business further."
Mr Mackintosh, a former finalist in both the Shell Livewire Young Entrepreneur of the Year Award and the Prince's Scottish Youth Business Trust Award, came up with the idea for the business while studying for a degree at the Scottish Agricultural College in Aberdeen.