Sales drop for Stirling insulation company Superglass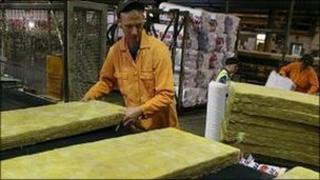 The Stirling insulation firm, Superglass, has announced a sharp drop in sales and an increase in losses.
The company made a pre-tax loss of more than £2m for the six months to the end of February.
Sales during the same period dropped by 10% and the company was affected by work on one of its furnaces.
However the firm said it had taken action to "confront" challenges and in recent months there had been a "recovery" in market share and volumes.
One of the biggest disappointments for the company has been the lack of finance and poor take-up of the government's carbon emission reduction programme (Cert).
Legislation to extend the programme was passed last year and the company expected there would about 1.4 million cavity wall and 2.1 million loft insulation upgrades by the end of 2012.
However, so far, only a fraction of the insulation targets have been achieved.
Consumer confidence
Superglass said it had moved much of its focus on to new build and that had paid off with an increase in sales.
However the company said that, although housing activity was much stronger throughout 2010, "continued weakness in mortgage availability and consumer confidence is still affecting the market."
The firm said it had also seen modest growth through the sale of its products in builders' merchants but again it cautioned that "this is expected to be followed by more subdued activity following the recent changes to the VAT rate and uncertainty around consumer confidence."
Superglass employs about 200 people and makes fibre glass insulation from plastic bottles.