Sales fall for Scottish sausage skin firm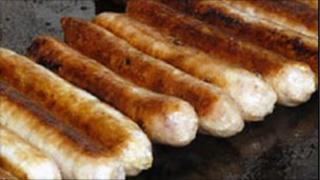 Scottish sausage skin manufacturer Devro has announced that total sales were down on the same period last year.
But in its interim management statement for the period from 1 January to 28 April the company said it was on target to meet the board's expectations for the full year.
It said Eastern Europe, Russia and SE Asia had shown growth.
But Devro said that was offset by challenging conditions in lower-priced markets, including China.
Adverse weather in January also affected some manufacturing performances but the company said it was recovering.
Devro has a leading role in the production of collagen-based food casings, which have been gaining market share from more traditional gut skins.
Chairman Steve Hannam said: "The benefits of last year's investment programme are starting to come through, with improved manufacturing efficiencies partially compensating for some increased input costs."
The company, which is based in Moodiesburn, Lanarkshire, also manufactures in the Czech Republic, the United States and Australia, from which it exports to 50 countries.