Sales of corporate pensions help boost Standard Life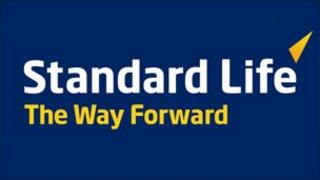 The Edinburgh insurer Standard Life has announced a 25% increase in sales in the first three months of this year.
The company achieved total new business sales of £5.8bn.
Standard Life said it had won 46 new corporate pension schemes, bringing in a total of 14,000 new employees and increasing net inflows by 85%,
The group's share price has fallen 10% in recent weeks amid uncertainty over whether investment and cost cutting would deliver increased profits.
However, Thursday's trading figures were better than expected and the share price rose on early trading.
Chief executive David Nish said: "Our programme of transformation and investment is on track, building our market-leading investment propositions by deploying best-in-class technology, and preparing our business to take full advantage of the fundamental regulatory changes that will take place next year.
"Our strategy is driving further asset growth and will deliver increased future cash flows and profit generation," he added.