Scottish retail sales show a small rise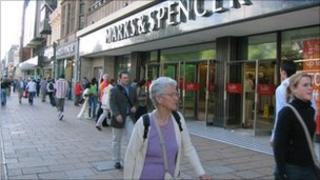 Retail sales in Scotland grew at a faster pace during the past year than in the UK as a whole, according to official figures.
The value of sales grew by 3.7% compared with 3% across the UK.
But the volume of sales from Scottish shops fell by 0.3% in the first three months of this year - in the UK there was zero growth.
The latest figures indicated shops were selling fewer items but were charging more for them.
Many retailers have had to absorb sharp increases in the cost of raw materials such as cotton and wheat. The rise in fuel prices have also put pressure on margins.
At the beginning of this year VAT was increased to 20%.
The Retail Sales Index surveyed about 700 businesses across the Scottish retail sector.
The index is published by the Scottish government.