Clydesdale and Yorkshire banks report rising profits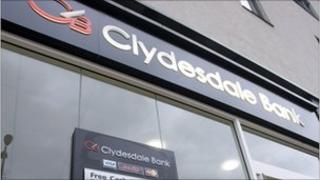 Clydesdale and Yorkshire banks have reported rising profits, in part as a result of falling exposure to bad debt.
Owners National Australia Bank (NAB) said pre-tax cash earnings in the six months to 31 March rose 25% to £101m.
However, it warned of continuing problems with loans to small and medium-sized businesses, particularly in the hospitality sector.
It also gave a downbeat assessment of the impact on business of Britain's economic troubles.
NAB has about 2.7 million UK customers through Glasgow-based Clydesdale Bank, which incorporates the Yorkshire Bank brand.
Commenting on the figures, NAB said: "Gross impaired asset balances continued to increase, reflecting ongoing difficult economic and market conditions.
"The UK economy remains challenging and a cautious outlook for the remainder of the year is warranted."
Clydesdale and Yorkshire announced they would be putting aside £8m to cover the costs of claims already made for mis-selling of payment protection insurance.
This contrasts with more than £3bn put aside by Lloyds Banking Group.
Debt provision
Clydesdale and Yorkshire, which are only allowing for claims made to date, said there remained a lot of uncertainty about their liability for re-paying customers.
Total provision for bad and doubtful debt is down by 17%, or £32m, when compared with the half year to March 2010.
These were the final set of figures before Lynne Peacock stands down as chief executive of NAB's operation in the UK, before handing over to chief operating officer David Thorburn.
She said the figures were "creditable" and the banks' customer focus was paying off, with "growing numbers of small and mid-corporate trading businesses helping us to further expand our mortgage book".
New lending ran to £3.7bn, on top of £4.7bn during the past financial year, with the bank on target to reach its £10bn gross new lending target over two years.