RBS can be Scottish 'flagship' bank again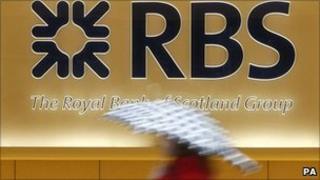 The chief executive of Royal Bank of Scotland has told CBI Scotland members the bank is on track to become "a flagship for Scotland once again".
Stephen Hester said the bank's results on Friday would show past mistakes were being fixed and the cost of those errors could be self-funded.
It is to announce £15bn of gross lending for the first quarter of 2011.
However, he warned it faced "tough work" in dealing with "dramatic change to regulation and the cost of banking".
Mr Hester took over the bank at the height of its crisis, which led to a £45bn bail-out by the UK government.
The CBI Scotland annual lunch in Edinburgh was the first speech in which he has spoken about the company's roots in Scotland.
He said: "At RBS, we're really proud of our heritage and connection with Scotland, and over the past two and a half years I've been associated with trying to move the company forward, I've found an emotional connection with RBS - of people wanting us to be successful, wanting to see recovery and seeing us as more than a story in the newspapers.
"We are proud to be Scotland's largest company. Our employment in Scotland alone injects more than half a billion pounds into the Scottish economy every year, with hundreds of millions of pounds more we spend on our partners and suppliers.
"We don't do that for historical and emotional reasons - either business and employment or the people with work with. We find Scotland a great place to do business, whether people, infrastructure or education."
Credit-worthiness
Mr Hester emphasised to his business audience that RBS has money for lending, and is providing funding for 85% of loan applications: "We, the banks, want to support you, though that has to be on a commercial basis. We will prosper only if you do.
"We have the money to lend what you need to borrow from us. There may be imperfections in how we apply that money. There may be differences of view in credit-worthiness and in pricing - and I don't belittle those important issues. But we have the money, and we can play our role."
The chief executive said the bank had been among those to make their share of mistakes, through lax lending standards, taking on too much debt itself, and "the hubris of the best part of 20 years of double digit growth in an industry that really doesn't deserve double digit growth, so I think it was false growth - that hubris led to a loss of focus on customers".
Also speaking at the CBI Scotland event was John Cridland, the new director general of the CBI. He issued a challenge to business to do more to engage with schools and to help boost skills.
'Lost generation'
He said businesses should seek to take on more apprentices, and that they should offer advice to schools in management, as well as the time of employees to support literacy learning among pupils.
Mr Cridland argued that more needs to be done to ensure the lower achieving 40% of school leavers have adequate skills, or else the UK will slip down the league of attractive places to invest. He said that position is already being compromised by tax levels and regulation of business.
The employers' leader said business must take a lead in addressing the historically high levels of youth unemployment in Britain, if it is to avoid "a lost generation".
He said that is close to one million people aged 16 to 24 who are not in education, training or employment, which, at 20%, is in the same range as the European Union average.