Scottish surveyors report house sales upturn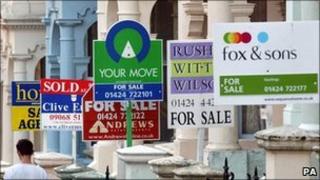 Scottish surveyors have reported an increase in the number of properties sold last month.
The monthly research by the Royal Institution of Chartered Surveyors in Scotland (RICS) showed a big leap in the number of homes changing hands.
However, house prices in the three months to the end of April fell, according to the survey.
The research also showed that a lack of mortgage finance was still affecting the property market across the UK.
In April, 25% more surveyors said they had recorded rises and not falls in sales, compared to 12% the previous month.
In addition, a net balance of 36% of surveyors predicted an increase in sales over the next three months - up from the previous figure of 0%.
The results have led experts to suggest the market is stabilising during the traditionally-busy spring period.
Demand from buyers also rose during April, with 38% of surveyors reporting an increase in new buyer inquiries, up from 31% in March.
Negative territory
Respondents also noted the good weather led to increased numbers of viewings from potential buyers but many reported that a lack of mortgage finance was hindering many.
Perthshire-based surveyor, Greg Davidson, of Graham and Sibbald, described himself as "quietly optimistic about the year ahead."
He said: "I am expecting values to remain reasonably constant for the foreseeable future but would hope to see an increase in the number of transactions."
Andrew MacFarlane of Graham and Sibbald in Hamilton said that "cash-rich buyers" were taking the opportunity to "secure properties" whilst those who needed mortgages continued to struggle to get deposits.
Despite the rise in sales, the house price picture remained downbeat as 6% more surveyors reported price falls in April compared with March.
Surveyors' expectations over the next three months also predict that prices will remain in negative territory.
Graeme Hartley, director of RICS Scotland, said: "The Scottish market remains relatively buoyant with active buyers and sellers, although the price levels remain subdued.
"The number of newly-agreed sales over the past month would demonstrate that sellers are more realistic about current property prices and it is difficult to see it picking up materially over the coming months.
"Although there are signs that some lenders may be reducing their grip on the purse strings, in particular with mortgages aimed at first-time buyers, there is still a long way to go before lending levels increase enough to have any real impact.
"Economic uncertainty may also continue to weigh on sentiment for a while to come."