Call to protect retail customer deposits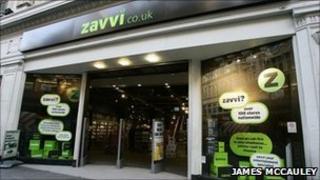 Retailers should be required to protect customers' deposits and voucher funds against the risk of bankruptcy, according to Scottish accountants.
The call comes after recent insolvency cases involving retailers like Zavvi or MFI where customers lost money paid before the firms went under.
The Institute of Chartered Accountants of Scotland said it was time the UK government introduced new legislation.
They want customer deposits to be held separately from other company funds.
The body said customers were currently exposed to retail firms going into administration, running the risk of losing their money.
That also applied to gift vouchers owned by customers where they could no longer be redeemed.
The ICAS comments were in response to an Office of Fair Trading consultation on company insolvency.
'Bold move'
They want UK ministers to introduce legislation requiring businesses that accept deposits to hold them in a separate bank account that is not available to offset borrowings.
Ann Condick, director of insolvency at ICAS, said: "This would be a bold move by government and it would need to consider how the requirement would work for smaller businesses who may not find it easy to operate a separate bank account.
"However, it is legislation that, with careful consideration, would be extremely beneficial for consumers and other unsecured creditors.
"We have witnessed a rise in high profile retail insolvencies over the last few years with some consumers losing out over the Christmas period which can be a difficult time for businesses and members of the public alike."