Transport firm FirstGroup warns of outlook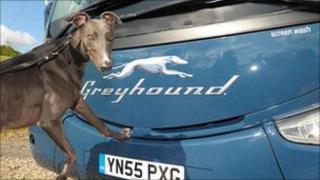 Aberdeen-based transport company FirstGroup has reported a 27% drop in full-year pre-tax profits to £127m.
The group said four of its five divisions performed well but its US student bus business was hit by school boards cutting back on spending.
The company has also decided to give up the option to extend its First Great Western franchise in order to negotiate a longer-term deal.
First's new chief executive Tim O'Toole warned of economic uncertainty.
He added: "We are encouraged by improving trends in UK Rail and Greyhound and a continued steady performance in our UK Bus and First Transit operations.
"We expect that our North American First Student business will continue to see pressure on margins during 2011/12."
The company said it had put a detailed recovery plan in place to rescue the First Student division, which would cost £39.5m, although it maintained the business was fundamentally strong.
Taking action
First's US Greyhound brand, which it bought in 2007, has been operating in the UK for the past year and the company said it had made good progress transforming it.
During the year it said passenger revenue, on a like-for-like basis, increased by 0.8%.
In its UK bus division, operating profit increased by 19.4% to £148.8m, which First said it had achieved through a number of measures including taking action to tackle "lower levels of customer demand due to higher unemployment and lower levels of retail activity in many of the towns and cities where we operate".
Long-term plans
First, which runs a number of rail franchises including ScotRail, said it did not want to take up the option to extend its Great Western franchise beyond March 2013.
The firm said it wanted instead to try to negotiate a longer-term deal.
Mr O'Toole said: "We believe we are best placed to manage these projects and capture the benefits through a longer-term franchise."
First Great Western runs train services between London, the west of England, south Wales and parts of the Midlands.