Orders rise for engineering firms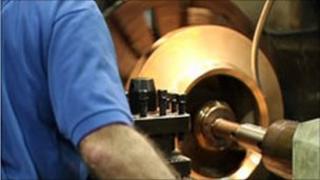 Scottish engineering companies have reported a sharp increase in orders in the last three months.
The survey for industry body Scottish Engineering said total order intake, which includes UK and export orders, was close to a peak in 2006.
The body said the knock-on effect of healthy orders had been seen in an increase in staffing over the year.
However it warned that even companies with "bulging" order books were still finding it difficult to get funding.
Dr Peter Hughes, chief executive of Scottish Engineering, said the success of many firms was down to hard work.
He added: "Management, staff and unions have worked together, recognising the need to remain competitive, to bring about this transformation in working practices.
"They have become more efficient and competitive so that they are now reaping the rewards for several years of hard graft, allowing them to win contracts successfully in world markets."
The survey suggested orders had increased for the last 15 months and Dr Hughes said there were early indications that this would continue.
Although manufacturing companies in other parts of the UK had suffered in recent months, he said many Scottish firms had not.
He said: "The UK economy generally is flat and shallow but we are not as dependent on the UK economy as some manufacturing companies in England and Wales. In Scotland we're very much more international."