Donaldson and McConnell collapse cuts 47 Scots jobs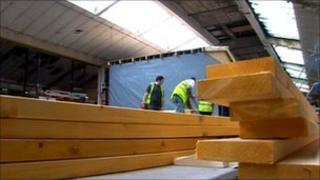 Almost 50 jobs have been lost in Scotland with the collapse of specialist roofing company Donaldson and McConnell.
The losses were announced shortly after the Grangemouth-based firm was placed in administration.
A total of more than 100 jobs have been axed across the group, which has facilities in Bo'ness, West Bromwich, Northern Ireland and Kent.
A total of 47 posts have gone from its operations in Scotland.
The group, which was formed in 1991, specialised in the design, supply and erection of complex timber and glulam roof structures.
Donaldson and McConnell, which had an annual turnover of £11.3m, had employed 114 people across its four locations.
'Challenging conditions'
Administrative receivers KPMG said cost-cutting measures by the group's directors had been insufficient to stem trading losses and cashflow pressures.
Blair Nimmo, head of restructuring for KPMG in Scotland, said: "In common with many companies that supply the construction sector, Donaldson and McConnell has experienced very challenging conditions in recent times, with the reduction in construction activity reducing demand for the group's products."
KPMG have now started to assess the group's customer contracts with the intention of completing certain works and seeking offers for some of the contracts.
Mr Nimmo added: "Regrettably, we have had to make 102 employees redundant with immediate effect. We are working with government agencies to ensure all employee issues are dealt with."