Ayrshire food depot workers take strike action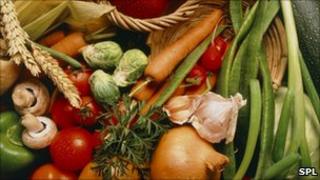 About 25 workers at an Ayrshire food distribution firm have gone on strike in a dispute over working conditions.
The GMB union said warehouse staff and drivers at DBC Foodservices in Dundonald had taken the action over the imposition of changes to working hours.
The industrial action, which affects about one-third of the workforce, is due to run until Monday afternoon.
DBC provides food supplies to Ministry of Defence establishments in the UK and overseas.
The GMB said the staff voted overwhelmingly for industrial action after being told their hours would be increased from 37.5 to 45 hours a week with no additional pay.
'Unacceptable proposals'
Mick Conroy, of the GMB, said: "The company proposals are completely unacceptable. Asking people to work an additional 7.5 hours for no additional pay is equivalent to a cut in hourly pay rates of 20%. It will not be accepted by GMB members.
"These strikes are a last resort for the GMB members who do a vital job making sure our armed forces have the supplies to do the job they do protecting our nation.
"If the company does not back down and seek a negotiated settlement there will be further days of strike action."
In a statement, DBC said it had been restructuring and modernising over the past two years, which had led to employees undertaking similar roles at different sites engaged under varying terms and conditions.
The firm said it had attempted to resolve this through consultation and the introduction of consistent standards.
It continued: "The consultation has involved over 1,000 employees nationwide between October 2010 and March 2011, with the overwhelming majority having agreed the new terms and conditions.
"However, a very small number of employees at Dundonald depot have not agreed to the changes in terms and conditions, despite ongoing negotiations with ACAS and GMB Scotland, which has resulted in the planned industrial action between Thursday 9 June and Monday 13 June 2011."
DBC offers a range of products including chilled and frozen food, fresh fruit and vegetables and fresh and cooked meats.
The company operates from 12 locations in the UK and employs more than 1,000 employees nationwide.