Steady sales of staff-hit Daily Record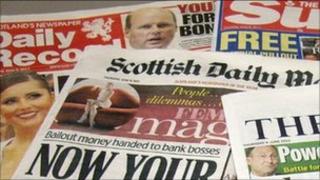 Sales of the Daily Record have remained stable in recent months, according to the latest circulation figures.
The Record and its sister title, the Sunday Mail, announced plans on Wednesday to cut 90 jobs - more than a third of editorial staff.
The paper sold an average of 311,500 copies each day last month - a drop of 17,000 on May last year.
This was only 1,000 down on the figures for February, March and April, which were virtually identical each month.
Journalists at the paper claim the cuts will turn it into little more than a Scottish edition of the Daily Mirror - a charge denied by the company.
Quality papers
The Sunday Mail sold about 365,000 each month during the first four months of the year, again showing a high degree of stability.
In May it sold just under 362,000. Sales of popular Sunday papers often fall at the end of the football season.
However, the Mail did see a decline compared with May last year when its circulation was 389,218.
Meanwhile, Scotland's main quality papers got a boost last month - possibly because of the closing stages of the election campaign and the aftermath of the result - although the underlying annual trend remained downwards.
The Herald saw its sales rise above 50,000 again to 50,435.
In April it dipped below the milestone figure for the first time in living memory.
However, its sales last month were still the second lowest in modern times and significantly down on May last year, when it sold 54,943.
The Sunday Herald - which made national headlines after it revealed the identity of the footballer who had taken out a super injunction - got a big lift.
Yearly decrease
Its average sale reached 32,292 compared with 29,578 in April.
However, its sales have still dropped some 10,000 since its relaunch as a news magazine in January.
Last week the papers' publishers drew attention to research suggesting the number of people reading the papers had actually increased healthily. These figures are compiled in a different way to the sales figures.
The Scotsman's circulation last month was 41,271 - up from 40,524 in April. But, as with its Glasgow rival, this is believed to be the paper's second-lowest sales figure in modern times and well down last May's 45,352.
Scotland on Sunday sold 54,260 copes a week against 50,626 in April and 57,057 last May.
The challenge for all these titles is to try to make sure last month's boost was not merely a blip.
The summer months are traditionally challenging for all titles because of the holiday period and the lack of football.