Scottish housing market prices to 'continue to fall'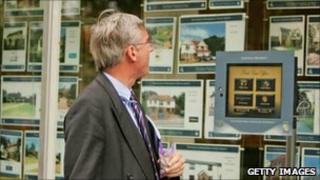 Surveyors in Scotland remain gloomy, expecting a fall in house prices and sales in the next three months.
The Royal Institution of Chartered Surveyors in Scotland (RICS) said its latest results were among the most negative since September 2010.
However, Scotland was faring better than the rest of the UK, apart from London.
There has been an increase in the number of people wanting to sell their home compared with buyer inquiries.
Once again, difficulties in getting finance have been blamed for the sluggish market.
Graeme Hartley, RICS Scotland director, said: "There is still activity in the Scottish property market but the spring bounce has been and gone and surveyors are reporting problems at the lower end of the market because first time buyers are struggling to get finance and raise deposits."
The time of year and the number of holidays has made it difficult for some in the industry.
Graeme Lusk, of Graham and Sibbald, said April into May had been a difficult month.
He added: "The combination of school holidays, Easter weekend, royal wedding and May bank holiday led to a disjointed month with fewer people bringing their home to the market until normality returned."
Many surveyors have reported positive signs.
Chris Highton, of Allied Surveyors in Selkirk, said: "After a dreary winter, the traditional increase in activity has been noticeable.
"Significant numbers of refreshes on home reports suggest that older stock is now moving."