Academic mission to strengthen India ties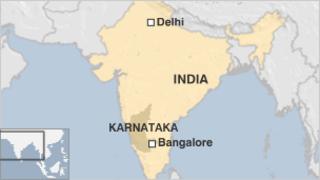 Senior Scottish academics are visiting India in an effort to strengthen links between Scotland and one of the world's fastest growing economies.
The British Council Scotland mission to Bangalore and Ahmedabad is designed to build partnerships that could improve Scotland's future business prospects.
The delegation will showcase Scotland's expertise in finance and business education to Indian counterparts.
The visit follows a recent similar mission to Tianjin in China.
Bangalore, which is based in the southern state of Karnataka, has a population of 5.5 million, while four million Indians live in Ahmedabad in the west-coast Gujarat state.
Six Scottish universities are taking part in the visit, including Dundee, Glasgow, Glasgow Caledonian, Aberdeen, Heriot-Watt and West of Scotland.
The mission comes as the Scottish government prepares this week to put forward its external affairs proposals in the Scottish Parliament, with an emphasis expected on building links with the so-called BRIC countries of Brazil, Russia, India and China.
The British Council Scotland hopes the mission will increase the number of students flowing between Scotland and India, as well as research collaborations and academic exchanges.
It also hopes these partnerships could act as a springboard in the longer term for commercial links in high-growth sectors, particularly financial services.
Scottish exports to India currently total around £200m a year, but the Scottish government is looking to increase this.
Julia Amour, director of British Council Scotland, said: "This week's mission to India is part of our activity to promote Scotland and its unique educational offering in the world's fastest growing economies.
"With our specialisms in key areas including finance, education, energy and life sciences, Scotland is well placed to reap the benefits of being part of a better connected, globalised world.
"By helping to build closer ties with major emerging markets like India, which are in many ways untapped, the British Council can act as Scotland's gateway to the world."
Education Secretary Mike Russell said: "India is an important education market for Scotland which is supported by the many existing research collaborations and partnerships. I am sure both Scotland and India will benefit from even greater links after this visit."