Losses slashed at Dundee ATM advertising firm i-design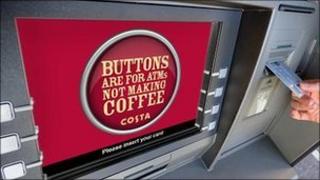 Dundee ATM advertising firm i-design has reported a £450,000 fall in losses to £105,000 in the six months to the end of March.
The company said revenues over the same period were £1.4m, an increase of 57%.
I-design said a major new contract with YourCash Limited, the largest independent supplier of ATM solutions in Europe, had boosted sales.
It said the "strong upward momentum in the business witnessed over the last year looks well established".
In recent months the company announced a deal with Barclays bank to supply i-design's software, called atmAd, to all of the bank's 4,000 cash machines, allowing them to carry adverts.
The firm has also developed new software called Joono which will let banks communicate with customers through mobile phones and plasma screens, in addition to cash machines.