Passenger rise drives Lothian Bus profits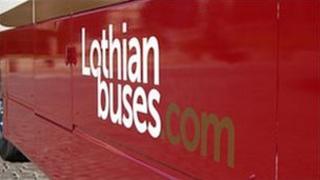 Scotland's only publicly-owned bus company, Lothian Buses, has reported an increase in profits to £13m from £8.5m.
The figures for 2010 also show that passenger numbers grew by 1.9% to 109 million.
The company said the rise in profits was also achieved by "careful cost control" and a "favourable fuel hedge position".
Lothian Buses is the UK's largest company of its kind and operates 600 buses across 55 routes.
It is owned by the City of Edinburgh, East Lothian, West Lothian and Midlothian councils.
Ian Craig, managing director of Lothian Buses, said: "2010 was undoubtedly a successful year for the company, and the increase in profit is the result of our commitment to customer satisfaction, improvements in service punctuality and reliability, patronage growth, and continued investment for future success."
The company said an independent passenger survey found that satisfaction levels had increased to 85%.
It said it had invested £16.5m this year on 75 new double deckers and was spending £10m on refurbishing its Longstone Garage over the next two years.
However, the transport group warned of higher fuel prices and said these would "significantly impact on this year's trading results".