Scottish house prices fall by 3.2% over the year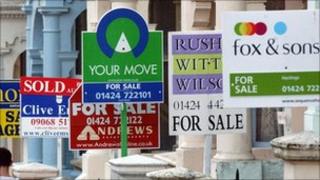 House prices in Scotland fell by 3.2% over the past year, according to the lender the Nationwide.
This compares to a fall of 1.2% across the UK as whole with only Northern Ireland performing worse.
In the last three months, prices in Scotland fell by 0.1%.
The Nationwide said it was difficult to predict what would happen in the economy but said areas most exposed to public sector cuts "were likely to lag at least in the near term".
Robert Gardner, the Nationwide's chief economist, said: "It's hard to make a case for prices rising or falling sharply over the remainder of 2011 if the economy develops as we expect.
"Economic growth is set to gather pace in the months ahead but is likely to remain unspectacular."
The average cost of a home in Scotland is £139,447 with Edinburgh still the most expensive area and South Lanarkshire the cheapest.
Aberdeen was the strongest performing area with an annual price increase of 1% while Dundee and Angus saw the cost of a home falling by 11% over the year.
London was the only place which recorded an increase in prices over the past twelve months. The average cost of a home is just under £300,000 which is 2.9% higher than it was a year ago.