Brewer Greene King celebrates Belhaven sales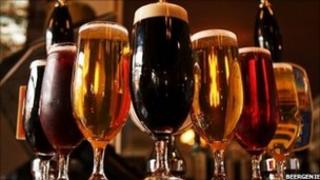 The brewery and pubs group Greene King said profits from Belhaven were up 77% since it acquired the company in 2005.
In the last financial year volumes from Dunbar-based Belhaven grew by 2.2%.
However the parent company warned it expected another "testing year" as high inflation and government cutbacks drained drinkers' wallets.
Overall Greene King's full-year pre-tax profit was £140m, up 14% from a year ago and sales for the same period were up 6% passing the £1bn mark.
Greene King said it had now fully integrated Belhaven into the parent company and it expected this to deliver cost savings of £1m a year.