Drug firm Equateq secures big US order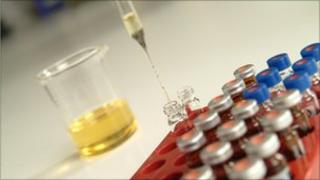 A Scottish pharmaceutical firm is set to expand its production capacity after securing a multi-million pound order from the United States.
Lewis-based Equateq is to supply Amarin Corporation with an active pharmaceutical ingredient (API) for an omega oil-based drug under development to combat cardiovascular disease.
Equateq expects to double its workforce to 70 during the eight-year contract.
It is now planning "significant investment" in equipment and capacity.
Under the terms of the contract, Amarin Corporation is committed to buying £6.1m worth of API concentrate from Equateq in year one, rising to £12.3m in year four.
The terms for the final four years of the agreement will then be renegotiated, based on demand.
Omega oil
Equateq was one of only three companies worldwide chosen by Amarin to supply icosapent ethyl for its omega oil pharmaceutical AMR101, which the US firm is developing for the treatment of cardiovascular disease.
Equateq chief executive Adam Kelliher said: "This is our most significant agreement to date, and one of the most significant in the omega oil sector.
"Amarin's research indicates that AMR101 has the potential to help many who are suffering from cardiovascular disease.
"The opportunity presented by Amarin is potentially immense, and we aim to ensure they have supply chain security to meet the anticipated demand, which is significant."
Chemical Sciences Scotland, which is a partnership between industry, the academic sector and government agencies, welcomed Equateq's announcement.
Chairman Sandy Dobbie said: "One of the ways in which Scotland can compete and flourish on the world stage is through international trade, but winning large contracts such as this is not easy when you are competing with similar companies all over the world.
"That is what makes Equateq's achievement all the more remarkable, and by expanding their facilities and workforce the company will create new skilled jobs in Scotland.
"The potential rewards are enormous and we will be watching developments with interest."