Small businesses call for big firms to pay on time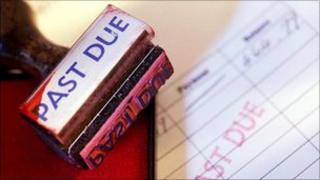 Big companies are being urged to set an example and pay bills on time after a survey suggested two-thirds of small firms were paid late in the last year.
The Federation of Small Businesses (FSB) in Scotland survey also found two-thirds of firms thought the problem had worsened in the past 12 months.
The FSB said big Scottish firms should pay on time and publish payment terms.
It also urged the public sector to ensure sub-contractors working on large procurement projects were paid on time.
The FSB's survey indicated almost half (48%) of Scottish members were currently waiting for more than £5,000 in late invoiced work.
And it suggested one in five members had charged interest or a fine for late payment for goods or services supplied in the last year.
The FSB has long argued many of the problems associated with late payment stem from an imbalance of power between large organisations and their much smaller sub-contractors.
Cash reserves
Andy Willox, the FSB's Scottish policy convener, said: "Many small businesses don't have the same cash reserves as their larger counterparts.
"So you can understand why FSB research shows that 44% of members that are paid late are then forced to pay their own suppliers late.
"Further, fewer flexible credit facilities amplifies the impact down the supply chain."
Mr Willox said his organisation was asking big Scottish businesses to play their part in driving the recovery.
He added: "We believe a break in practice at the top could drive virtuous practices to the bottom of the supply chain. "