William Morton seals takeover of Inverarity Vaults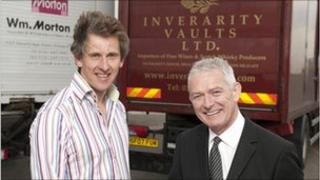 Scotland's largest drinks supplier is being created by the takeover of wine merchant Inverarity Vaults by licensed trade supplier William Morton.
The joint operation is expected to have a turnover of £50m, with a workforce of 150.
The company will benefit from cost advantages of merging warehousing and logistics operations. No price has been put on the deal.
Inverarity will continue to trade as an autonomous subsidiary.
It will be merged with Cheviot Fine Wines, which has been part of William Morton.
William Morton, headquartered in Glasgow, was founded in 1945 as a drinks supplier to the licensed trade, and is now headed by Stephen Russell.
Hamish Martin founded Inverarity Vaults 20 years ago and runs it out of Biggar, South Lanarkshire.
Mr Martin said he has had previous offers for the business.
But he said the William Morton deal was a "natural alliance".
"They are a truly independent Scottish company and founded on the same family values and commitment to staff as Inverarity," he added.
"Our specialist wine knowledge and service combined with their buying power, financial strength and composite drinks offering will establish the strongest-performing independent Scottish wine and spirit merchant in Scotland and I'm extremely excited about the future."