Wood Group wins 'Big Foot' oil platform contract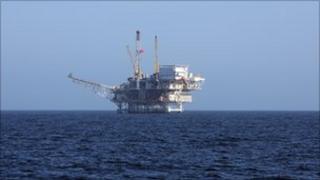 Aberdeen-based Wood Group has won a multi-million dollar contract to build an oil platform in the Gulf of Mexico.
The energy services company was awarded a three-year contract by Chevron Corporation to commission its Big Foot extended tension leg platform (ETLP).
Work will be performed by Wood Group subsidiary Deepwater Specialists Inc (DSI).
Chevron said it could rely on DSI to provide "safe and consistent" commissioning services.
A tension leg platform is a vertically moored floating structure for use in a wide range of water depths.
DSI will run the full commissioning process, from inspection and testing of operational components at South Texas fabrication yards and offshore, to the final handover of systems to Chevron.
Big Foot is the eighth tension leg platform DSI has commissioned worldwide.
It is the fifth commissioned for Chevron, including the Jack and St Malo semi-submersible platform in the deepwater Gulf of Mexico.
Big Foot will be located in the deepwater Gulf of Mexico, approximately 225 miles (360km) south of New Orleans, Louisiana, in water depths of 5,200ft (1,600m).
The development will have production capacity of 75,000 barrels of oil and 25 million cubic feet of natural gas per day. Its first oil is anticipated in 2014.
Recently, Wood Group subsidiary Alliance Engineering was awarded a multi-million contract to provide detailed engineering and design services for the Tamar gas platform project to be located offshore in the eastern Mediterranean's Levantine Basin.