Edinburgh data handling company bought over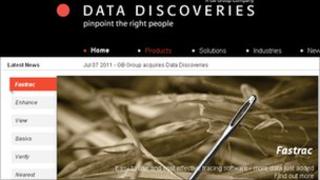 An Edinburgh specialist in data handling is being bought over by a larger company based in Chester.
GB Group is buying Data Discoveries for £610,000, taking on its 17 staff and extending its reach into Scotland.
Data Discoveries was formed 15 years ago, and offers clients services such as data tracing.
That includes helping pension companies find people with pension entitlements who have moved on without giving new addresses.
It also traces people who owe money, for example, in student loans.
Clients include Royal Mail, Prudential, Ticketmaster and Matalan.
GB Group has more than 140 employees, and offers clients services including identity checks on individuals' credit ratings.
Ken Naismith, of Data Discoveries, said: "This is a positive move for Data Discoveries.
"GB Group has a reputation for innovation and the acquisition provides us with access to the resources the business needs to develop our products and services and meet the demands of this growing sector."