Scottish business counts the cost of metal theft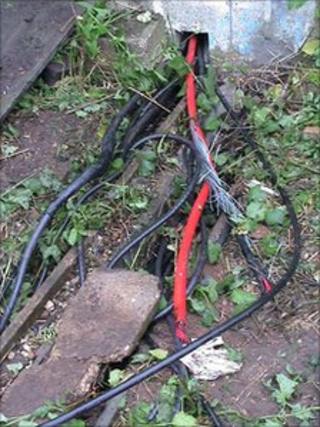 The theft of £35,000 worth of cable from a BT yard in the south of Scotland is the latest example of an escalating problem facing Scottish businesses.
The thieves were apparently targeting copper, which has been soaring in value on the commodity markets.
It is an issue which has blighted a wide range of industries, from the railways to housebuilding.
Figures for Scotland are not available, but metal thefts are estimated to cost UK businesses at least £770m a year.
In May, the Scottish Commercial Crime Group listed metal theft as having a major impact on the profitability of businesses.
Police say railways, utility substations, businesses, houses and even road signs and drain covers are being targeted by criminals.
They expect the problem to get worse if metal prices continue their meteoric rise.
British Transport Police told the BBC Scotland news website metal theft was becoming "an increasing problem".
A spokesman said: "It can be very difficult for businesses to be totally secure from theft, which can often involve copper piping bringing in gas to their premises or cables bringing in electricity.
"Our advice is they should install good security in their premises and try to ensure there is very little cover next to the building, so thieves can't use large trees or fences to remain out of sight as they carry out the crime."
Housebuilders in Scotland are also having to ramp up security measures to try to reduce the problem of theft of metals such as lead from roofs.
Business fightback
BT Scotland, which saw £35,000 worth of cable stolen from its yard on Greystone Avenue in Dumfries this week, has been stepping up its fightback against metal thieves.
The company, which says more than 400 people were arrested across the UK for stealing from its network in the past year, has set up a metal theft taskforce to tackle the problem.
BT Scotland said network security was "of paramount importance" and it was constantly reviewing its processes to make sure its infrastructure protection was robust.
Its latest big weapon is forensic marking and GPS tracking technology, developed by scientists at British company SmartWater.
The technology involves forensically-coded paint which is designed to "tag" metal thieves after they touch the cable.
The paint stays on the skin for 60 days and helps police trace the thief, as well as any stolen cable, back to the scene of the crime.
Bernie Auguste, head of security for BT's local network business Openreach, said: "Any criminal who targets the BT network in Scotland now risks being invisibly 'tagged' with SmartWater, meaning that the police can trace them, and any stolen cable or equipment, back to the scene of the crime.
"Cable theft affects not only us as a business, it affects everyone who relies on access to phones and broadband. With the help of this technology and other initiatives we're fighting back."
Trap hotspots
SmartWater trap devices are being deployed in "hotspot areas" in an effort to catch metal thieves red-handed.
BT has also joined forces with Crimestoppers and is offering up to £1,000 as a reward for information leading to a conviction.
Scottish housebuilders are also taking steps in an effort to tackle the problem of lead and copper theft from building sites.
Michael Levack, chief executive of the Scottish Building Federation, said: "We are asking our members to be even more vigilant and put appropriate security in place where necessary."
The Scottish Federation of Small Businesses (FSB) said it was hearing of more and more cases of metal theft from its members.
Stuart Mackinnon, from the FSB, said: "In the past we were aware it was a problem for members in parts of England but now our members are saying it is an issue.
"Some of our members in Aberdeen have been telling us that it is not only copper but lead that is being removed from roofs.
"Naturally we would encourage our members to report the crime, even if it is only a small item of metal that has gone missing."
Mr Mackinnon also pointed out that firms were often indirect victims, with telephones and internet connections being disrupted by cable attacks.
The British Transport Police said they were working hard to reduce the problem, including working with scrap metal dealers to make it harder for "opportunists" who are looking to make some fast money.
"What we are trying to do is educate dealers as to what they can take in and whether something is likely to have been stolen," a spokesman said.