Scottish business going through soft patch, says survey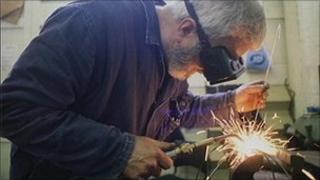 Scottish business is going through a "soft patch", with subdued growth in the second quarter of this year, a survey has suggested.
The Bank of Scotland's purchasing managers index (PMI) said activity in Scotland's private sector economy expanded at a solid pace.
But it added Scotland saw one of the slowest rates of job creation in UK regions.
The index also indicated cost pressures eased further.
This in part led to the weakest rise in output prices so far this year.
According to the survey, lacklustre demand resulted in only a marginal rise in employment in June.
Scotland saw the slowest rate of job creation of all surveyed UK regions, with the exceptions of Northern Ireland, Wales and Yorkshire and Humber, where headcounts either decreased or were unchanged.
Nevertheless, employment in Scotland has now been rising for five months in a row.
'Solid' expansion
Despite reporting the first fall in new business for six months, the index suggested Scottish service providers continued to expand activity solidly and at a slightly faster pace than their goods-producing counterparts.
Growth of output in the manufacturing sector was only moderate, while a marginal rise in new orders offset the fall in new business reported by the service sector.
Donald MacRae, chief economist at Bank of Scotland, said: "June saw the sixth consecutive month of growth this year in the private sector of the Scottish economy, with growth in both the manufacturing and services sectors.
"However, marginal growth in new business and job creation suggest business is going through a 'soft patch' with subdued growth in the second quarter of this year decelerating below that of quarter one."