Scottish housing demand drying up, says RICS survey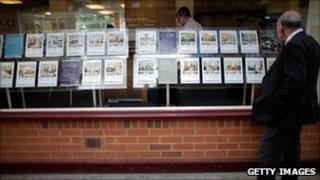 House buyers in Scotland appear to have taken an early holiday, according to a survey.
The Royal Institution of Chartered Surveyors (RICS) said June is usually a busy time for the housing market but this year was different.
The number of sales dipped in June and there were fewer buyer inquiries than any other month this year.
However, there are a lot of homes on the market which RICS said puts buyers in a strong negotiating position.
The fall in the number of sales was accompanied in June by a sharp rise in the number of people hoping to put their homes on the market - in fact Scotland's surveyors recorded the highest number of new instructions from sellers in the whole of the UK.
But weak sales meant that last month, a quarter of surveyors said house prices had dropped, 71% said they had stayed the same and 4% said they had gone up.
Scottish surveyors have little expectation for the next three months and anticipate that the number of homes sold will continue to drop and prices will also fall.
Peter McEachran, of surveyor firm Graham and Sibbald for Paisley and West of Scotland, said: "Houses which have been on the market for some time are selling, usually as a result of price reductions."
Chris Highton, of Allied Surveyors in the Scottish Borders, commented: "After a flurry in spring, things seem to have settled back, with activity reducing again.
"Although we would expect to see a tail off towards the summer holidays, activity seems especially subdued just now."
He added: "The top end of the market remains relatively resilient and activity there seems better, but the lower end has very little activity."
Meanwhile, an economic commentary from the accountancy firm, PwC, has suggested UK house prices are unlikely to recover to their previous peak levels until about 2020.
Slow recovery
John Hawksworth, chief economist at PwC, said: "We expect average UK house prices to drift down further over the next year and then enjoy only a modest recovery over the next few years.
"This reflects the dampening impact of declining real income levels and continued tight credit conditions for first-time buyers in particular."
The PwC report said in the wider economy, London and the South East would continue to lead recovery and Scotland and other areas would lag behind.
Mr Hawksworth said: "We see a distinct regional pattern to growth with the public spending cuts acting as a drag on recovery in Northern Ireland, Scotland, Wales and the North East in particular."
PwC has predicted that Scotland's economy will grow by 0.9% this year compared with a UK figure of 1.3%.
Next year it expects the UK economy to expand by 2.2% with the Scottish economy growing by 1.6%.