Renfrewshire firm Teknek bought by US industrial giant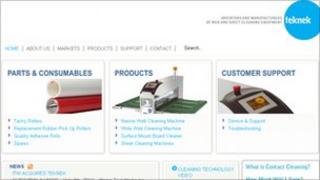 Teknek, one of Scotland's leading technology companies, has been bought by an American industrial giant.
The Renfrewshire-based firm, which makes cleaning products for specialist manufacturing systems, is to be a wholly-owned subsidiary of Illinois Tool Works (ITW).
It declined to give any details about the terms and cost.
Teknek employs just over 100 people in its manufacturing plant at Inchinnan, near Glasgow Airport in Renfrewshire.
Teknek managing director Steve Mitchell said Illinois ITW's track record showed it had a strong culture of decentralisation, and he saw the sale as a way of growing the Scottish business.
The Scottish firm, which has annual revenues of less than £20m, has recently expanded its international presence, with bases in Hong Kong, Shanghai, Japan, Taiwan and North Carolina.
'Clean Machine'
Its products help reduce contamination and improve the yield of machinery, in making electronic products, in printing and in glass, including the coating phase of flat panel display units and solar cells.
The company was set up in 1978 by Jonathan Kennett, who has remained one of the private shareholders.
In 1984, he developed its Clean Machine breakthrough technology to aid computer board manufacturing. Since then, Teknek has grown to operate in 40 countries, and its products now include nano-technology cleaning products.
ITW has roots going back more than 100 years, and is in the Fortune 200 largest US companies. With revenues of nearly £10bn, it employs more than 60,000 people, more than half outside the USA.
Its operations include welding, auto industry supplies, industrial packaging, food equipment, construction, polymers and fluids as well as electronics - the division within which Teknek will be based.