R3 report says more Scots taking on additional debt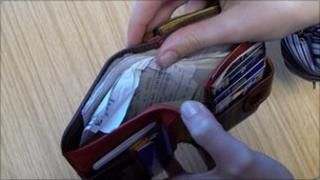 More Scots have taken on additional debt than anywhere else in Britain, according to a report by insolvency trade body R3.
Its quarterly personal debt snapshot found 13% of Scots had taken on extra debt through credit cards, loans and increased overdraft facilities.
That compared to 12% of people in the rest of Britain.
The report also revealed 43% of Scots said they struggled to make it to payday.
However, this was 3% less than the percentage of people who struggled in the rest of the UK.
Just over 200,000 Scots have also taken out a payday loan in the last year, compared to two million people in the rest of Britain.
According to R3, one in five Scots said they struggled to repay payday loans, whereas only one in 10 Britons said the same.
R3 Scottish council member John Hall said: "It is extremely worrying that such a large percentage of people are struggling to make it to payday and that many are using payday loans to bridge the gap.
"These loans tend to have high interest rates and often those who use this type of credit find themselves in a vicious debt cycle, especially if they then experience a sudden job loss."
He added: "If someone is finding it difficult to pay their bills, it is good to seek financial advice before taking out further lines of credit as these stop-gap measures can exacerbate the situation."
Responding to the R3 report, Citizens Advice Scotland chief executive Lucy McTernan said she was not surprised by the figures.
She commented: "The evidence from Scottish CABs has been reporting clearly for some time that debt remains a massive issue.
"Last year Scottish CAB advisers dealt with 132,000 debt cases. That's a quarter of all the cases we dealt with.
"There are too many Scots who are drowning in debt, and the problem is getting worse."
Ms McTernan said CAB evidence showed personal debt levels in Scotland increased by 50% during the first wave of the recession, with the average personal debt sitting at more than £20,000.
She added: "Over 40% of CAB debt clients have told us they have gone without food or fuel in order to try and pay off their debts, in many cases because they were being pressurised aggressively by their creditors."