Scottish Retail Consortium says no change in shop sales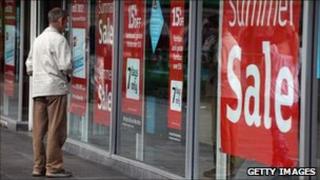 A survey has suggested that there was no change in the value of retail sales in Scotland in June, compared with a year ago.
The Scottish Retail Consortium (SRC) said there was zero growth for the month which was a slight improvement on the fall of 1.1% in May.
However, like-for-like sales which strip out distortions created by new store openings dropped by 1.8%.
The figures have been described as "deeply disappointing" by the SRC.
Richard Dodd of the Scottish Retail Consortium said: "When zero sales growth is an improvement you know times are tough.
"In fact overall sales were not even that good when the effect on spending figures of inflation and higher VAT is factored in."
Wet summer
The survey also revealed that there was an improvement in non-food sales, but that was achieved by some heavy discounting.
The wet weather in June hampered sales of garden furniture and summer shoes and clothing.
Mr Dodd added: "Scotland's results were also weaker than for the UK as whole. Consumer confidence is lower and falling faster as cuts concerns catch up with Scottish customers and sunny weather was rare."
David McCorquodale, head of retail in Scotland for KPMG said: "The figures for June are deeply disappointing and it may be that we are starting to see an indication of a longer-term trend.
"Uncertainty about jobs and incomes has meant that big-ticket purchases have been put on hold."
He added: "This is just the latest set of unseasonable results for retailers and, as the economy finds its feet, it is difficult to be able to predict exactly when the tide will turn for retailers who continue to struggle to attract shoppers back through the doors."