Cairn Energy wins Greenpeace court order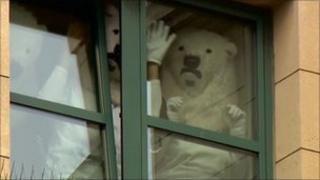 Cairn Energy has won a court order preventing Greenpeace from publishing any material recorded by protesters who occupied its headquarters on Monday.
The interim interdict, granted by the Court of Session, also prohibits any attempt to disrupt Cairn Energy's lawful business operations.
Cairn later confirmed it had been granted the interdict.
The move came as 17 activists appeared in court in connection with the protest at Cairn's offices in Edinburgh.
In a statement, Cairn said: "Cairn Energy has been granted an interim interdict against certain Greenpeace organisations who breached security and occupied Cairn's headquarters in Edinburgh on 18 July 2011.
"The interim interdict was granted by the Court of Session in Edinburgh and prevents them from carrying out similar action in Cairn's offices in the future."
Polar bears
Greenpeace has repeatedly targeted the company in recent months with a series of protests over its search for oil in the Arctic.
In the latest protest, Greenpeace said about 60 activists - some of whom were dressed as polar bears - "invaded" the company offices to demand that Cairn reveals its oil spill plans.
The occupation came only a few weeks after Cairn announced it had begun drilling at two wells off the coast of Greenland.
The executive director of Greenpeace UK, John Sauven, said: "Cairn Energy is using its legal muscle to try and gag us from telling the truth about their dangerous oil drilling in the fragile Arctic environment.
"The company is clearly worried that our volunteers may have got their hands on their secret Arctic spill response documents and now they are determined to continue their cover up by any means they can - even if that means impinging on important freedoms of expression."
Cairn Energy has insisted its operations comply fully with some of the most stringent safety regulations anywhere in the world.
Court appearances
In a separate development, 17 Greenpeace activists appeared at Edinburgh Sheriff Court on Tuesday following the protest at Cairn's offices at the Clydesdale Plaza premises on Lothian Road.
The 10 women and seven men, aged between 20 and 62, appeared from custody before Sheriff Alistair Noble.
It is alleged the group behaved in a threatening or aggressive manner which was likely to cause a reasonable person fear or alarm.
It is said that they entered the offices without permission, handcuffed and chained themselves to the desks and attached themselves to each other with a plastic pipe.
They are also alleged to have barricaded themselves to the offices, searched through drawers and filing cabinets, photographed and filmed the premises and placed the staff in a state of fear and alarm.
The group further faced a charge of attempting to steal information from paperwork and maps.
One man faced an additional charge of assault.
All the activists - some of whom were dressed all in white but were not wearing masks - denied the allegations and were granted bail on the condition that they did not go within 300 metres of the Clydesdale Plaza.
All 17 were ordered to return to court in either October or November.