Number of Scottish people going bust rises by 25%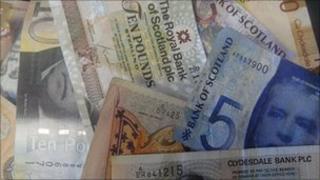 The number of people going bust in Scotland rose by a quarter in the first few months of this year, according to official figures.
The Accountant in Bankruptcy said more than 5,000 people were declared insolvent between April and June.
That figure was up 25% on the previous quarter, but down 1% on the same period last year.
The number of people opting for the voluntary protected trust deed to help write off their debts rose up by 51%.
A trust deed is an alternative to bankruptcy for people unable to repay their debts. It involves a monthly payment arrangement with some creditors and often involves some of the debt being written-off.
Meanwhile, the number of companies declared insolvent increased by 17% to 343 in the first quarter of 2011/12.
Enterprise Minister Fergus Ewing said: "While these new figures mark an increase in personal bankruptcies this quarter, I am encouraged that there has been reduction on levels when compared to this time last year.
"The recent increase in individual bankruptcies can perhaps be explained by the success of the Certificate for Sequestration, introduced in November last year through the Home Owner and Debtor Protection Act to help people in need of debt relief who previously didn't qualify."
Bryan Jackson, corporate recovery partner with accountants PKF, said it appeared that the better-off were now being hit hardest.
"Whilst the savings on mortgage payments have undoubtedly delayed the rise in bankruptcies among more affluent Scots, it is clear that many have been simply treading water, only barely able to keep afloat financially," he said.
"Now we are starting to see very high increases in the numbers being made bankrupt, which is likely to be among those who have had severe debts which they have been maintaining but not reducing - and increased living costs have pushed them over the edge."
He predicted that the number of bankruptcies would continue to rise for some time, adding: "Given that we have yet to see full implementation of public sector job cuts, these figures would tend to indicate the start of a trend rather than the end."