Melrose Resources starts exploration drive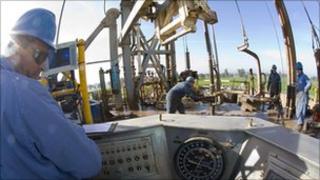 Oil and gas firm Melrose Resources has embarked on a three-year exploration drive involving "high potential" sites.
Projects include proven hydrocarbon basins offshore Bulgaria and Romania, as well as new initiatives in Egypt, Turkey and offshore France.
The Edinburgh firm plans to allocate about 40% of its capital expenditure to drilling and seismic work programmes.
Melrose said it was placing more emphasis on its exploration portfolio rather than production and development.
The company expects to complete three exploration wells in Turkey, Bulgaria and Egypt in the second half of 2011.
Its drilling programme is targeting prospective resources of oil and gas.
Melrose said two of the wells were "potentially new exploration play openers with significant follow-on opportunities".
The oil and gas company also reported that seismic surveys acquired earlier this year on the Mesaha concession in southern Egypt and the Rhone Maritime block off France would help define their longer term exploration potential.
Seismic data will also be acquired later in the year off the coast of Bulgaria, where the company hopes to extend the existing proven gas play to the north of the Galata-Kaliakra field trend.
Melrose chief executive David Thomas said: "This is a key period in the company's evolution as we transition from predominantly production and development-related investments to place more emphasis on our exploration portfolio.
"We are looking forward to seeing the results from our exploration wells in Turkey and Bulgaria, both of which represent an important part of the company's broader exploration programme."
He added: "The results of the West Zahayra flow test in Egypt are also encouraging since they have extended the oil productive area of the Mansoura concession, and we will be reviewing the geologic interpretation of this region in parallel with our appraisal studies on the discovery."