ScottishPower profits fall 21.4%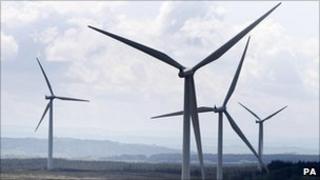 Falling demand for gas and electricity has hit profits at Glasgow-based energy firm ScottishPower.
The company which is part of the Spanish group, Iberdrola, announced half-year profits of £526m - a drop of 21.4% on the previous year.
ScottishPower said the fall was down to a drop in demand due to a warmer winter as well as higher wholesale prices.
The company, which has over five million gas and electricity customers, recently announced price increases.
From the beginning of August, it is to raise the cost of gas by 19% and the cost of electricity by 10%.
Other energy companies have followed suit.
The ScottishPower division which operates the transmission networks achieved a 13.3% increase in profits to £365m.
But the company's retailing and generating division reported a 53% fall in profits to £160m.
Although energy production from coal, hydro and gas fell, the group's renewables sector performed better with a 67% increase in generation.
This was partly down to increased capacity but mostly due to stronger winds.
Overall, parent company Iberdrola increased its earnings by 4.4% to more than £3.5bn.